There is probably nothing more satisfying than knowing their are people as wacky as you are. And I can safely say- here is my redemption. Fellow big eyed fanatics, who are kind enough to share their enthusiasm. For now, here is no place in the world that has more info on 'big eyed' art than on the following places. Enjoy!!!

CULT RAPTURE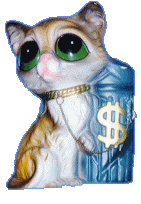 Adam Parfrey
POP VOID

Jim Morton's- Those Keane Kids
THIS PAGE IS CURRENTLY DOWN.
KIM & NOEL


Big Eyes Gallery

THIS PAGE IS CURRENTLY DOWN
BIG EYED MASTERS

Matthew & Lisa's Originals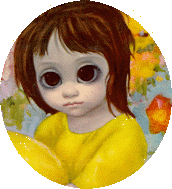 This page has my very favorite collection of original Big Eyed Art on the Web- Fine Works by KEANE- IGOR- FRANCA, and others. Originals that haven't been seen anywhere else- and are ALL so amazing. It really is fascinating to see just how talented these artists were- Stop by and see one of finest spots on the web!!! It's not often that you run across people who see the beauty in such things (well, I don't seem to run across many), but it is a even less often that you have an opportunity to check out original artwork by the "Big Eyed Masters". There are plenty of photos to keep you occupied for hours!!!
THE WORLD OF GIG

Lynette's Big Eye/Sad Eye Page
THIS PAGE IS CURRENTLY DOWN
HOWDY DO

Keen on KEANE

Michael and Ryan were featured in the Fall 97 issue of Collectibles. Magazine from which this picture was borrowed (photo by Antonis Achilleos). They own a very cool store called HOWDY DO. But they are These guys have a fantastic Big Eye Collection! Their web site has a nice sample of their stuff (big eyed as well as tv toys and lunchboxes). Not all of their Keane stuff is for sale. But if you ask they may have extras that they are willing to part with, or go visit their shop in New York.
HOWDY DO IS KEEN ON KEANE
MISC. BIG EYED STUFF!
Walter Keane tribute page by son Sascha Keane at keanephoto.com
Al Hoff is a thrift store goddess and zine queen, has also written wrote a book, which amongst other amazing things, covers her interest in big eyed thrift scores! Check out her webpage for details or buy Thrift Score now!
Dewey Webbs but his Objet of the Week- No. 41 "Walter and Margaret Keane cards 1963 Go look for yourself
This Honolulu newspaper reports whatever happened to.... Margaret Keane
*