Although Margaret Keane still paints some amazing big eyed children, there are no other artists of the 1960's still creating big eyed masterpieces. Luckily- there are several contemporary artists that are there for our 'big eyed' needs... painting beautiful big eyed kids- finking out waifs, goofing with Gig, bringing new life to old dolls and more !!!
LISA PETRUCCI
Kinky Kuties and Kick-Ass Kitsch
Definitely one of the funnest artists around- Lisa blends the campy with the cute and whips up this frothy fun of childhood memories and pop-culture delight! On all of this on souvenir type wooden plaques. I can't get enough of this stuff, and don't want to! Look close enough and you'll be sure to find images of the Big eye masters in her paintings. Keep your eyes peeled for Gigs Kitties and Puppies, Liddle Kiddles, Kimba and more memorables and kitsch from the 50's and 60's!!!!!!!!!! Look for the interview I conducted in Juxtapoz Erotica, issue 6. Visit Lisa's Webpage Here. You will adore it!
MITCH O'CONNELL

Good Taste Gone Bad
Mitch is an AMAZING artist,
and the first that I know of that incorporated big eyed images in their artwork, and continues to produce amazing work with big eyed flair. Even tattoo designs with big eye influence!!!. I highly suggest that you pick up a copy of his book. If you would like to read the interview with Mr. O'Connell , jump ahead to his webpage or buy Mitch's book: Pwease Wuv Me , Now!
LONG GONE JOHN

Sympathy For the Record Industry
From over 80 little miss no names dolls, to several original 60's MDH Keanes, as well as a fantastic piece commisioned in '97, Long Gone John has a great collection of big eyed stuff.

The man behind the record label has been in Juxtapoz Magazine, showing bits of his collection, and I was giddy. A guy, known for putting out great music, recognized for using great artwork-by amazing artists, and loved by me for his fondness for big eyes. the artist of this destitute beauty is los angeles artist, pablo...
In Conjunction with the Keane exhibit, Sympathetic Press put out a wonderful color catalog. If you are interested in a copy they are available for only $11- click hereto order a copy!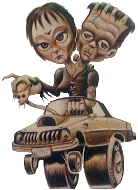 DAVE BURKE

Keane Machine-and other big eyed paintings
Dave is a super cool artist that is well known for his monster art and foot fetish paintings. Most people don't know that as well as being a 'big eyed art' fan he also paints a great tribute to the big eyed genre. Little Miss No Name Mermaids, Vampy Edens, and Hot Roddin' Waifs. For a closer look check out Dave Burkes's site Monsterfetish.com.
FAWN GEHWEILER

Bomb Pop

Tons of big eyes on this site. Big Somber Eyes with a urban-twist. Fawn's style is sooo all her own, but definitely has the Keane inspiration. This stuff is so cute. Kind of like Hello Kitty mixed with 60's big eyed art- with a big dash of bad attitude. Whatever it is, it's adorable--- and the site is really taking off--- getting packed with more neat stuff all the time. See Fawn Now. Be sure to click on everything- theres tons of stuff
TREVOR BROWN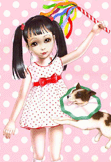 Babyart

Okay, here's one artist that you wouldn't think was an obvious fan of 'big eyed art'. Shocking and brutal, most of Trevors work makes me want to run and hide. But I musn't over look the beautiful eyes many of his paintings have. Like the adorable example shown here. Such depth, and even the sadness that was captured in the work of Margaret Keane. Not to mention the guy likes susie sad eyes. Most definitely not a site for everyone- but for those who aren't easily offended. Even the most jaded, will be provoked to feel something while on their visit to Trevor Brown's site. And don't say I didn't warn you.
GINA GARAN

This Is Blythe
Only one of the strangest dolls ever made.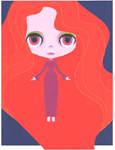 And with the largest eyes you can imagine. And to top it off you can change the color of them, just by pulling a string on her back---- tooo cool! Well, if this sounds like something you are into--- you will flip your lid over Gina's Book, This Is Blythe. Filled with photos of Blythe dolls all dressed up and set up in cool locations just like a little supermodels. She totally takes on a life of her own. Not bad for a doll that was made for only a year, now almost 30 years ago.... All you wanna-be waifs watch-out! or click here to buy the Blythe book, right now! Blythe is back and lookin' chic as ever! Illustration is by Michael
STEVEN CERIO
Happy Homeland
Another fantastic contemporary artist that has been influenced in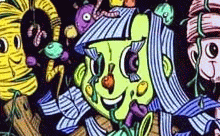 some way by the big eyed art of the 60's.. Bringing us high smilage for over a decade, Steven's work is what you might call insanely happy. Amongst all those bright colors and wild scenarios, are the biggest eyes on some of the grooviest characters I've ever seen. I'm really taken by the amazingly vivid paintings and illustrations of these ultra-cute loveable characters with gigantic eyes mixed with this crazy psychedelic fun-house feel. Check out Steven Cerio's site Happy Home Land or buy: Steven Cerios ABC Book : A Drug Primer, now!
MARK RYDEN

Not that this guy needs any mention from me, being one of the most loved artists around today. He has done several large paintings that have included images of Keanes waifs, and little miss no name dolls, as well as his own interpretations of sad eye waifs.. If you haven't before, be sure to check out Mark Ryden's Website.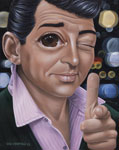 SAS CHRISTIAN
Hot Box Designs
Wow amazingly realistic paintings. Sas' big eyed women are really intense, huge eyes- very anime influenced. Her work is so striking. You'll have to be sure to check it out at her website hotboxdesigns.com