!OTHER COOL ART SHOWS TO CHECK OUT!
some of our favorite artists and what they're doing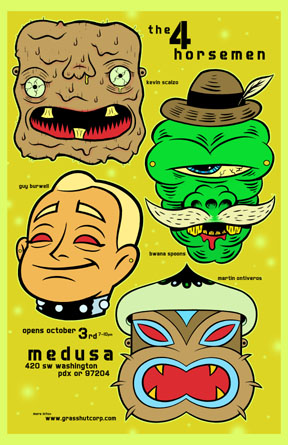 The Four Horsemen
What> Superpowered art show.
Where> Medusa Tattoo
420 SW Washington, Portland OR.
When> October 3rd – 30th
Opening reception is October 3rd, Thursday 7pm – 10pm.
Who> Guy Burwell, Martin Ontiveros,
Kevin Scalzo, Bwana Spoons.
Contact> Questions, comments, and wantings of
interviews can be channeled thru Bwana Spoons
503.236.9133 spoons@prodigy.net The Four horsemen
showcases the talents of four amazing artists: all painters,
all illustrators, each with his own distinct style and vision
that works like a tasty pudding with each other.