This interview was featured in Besmirched #3- Mary's definitely one of my very favorite artists. She's probably best known for her autobiographic comics featured in her Slutburger comic, but she's also a great painter. Ok, here it goes---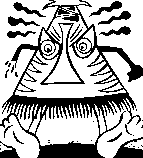 When did you start doing Slutburger, and how did you come up with the name?
Slutburger was originally published by Rip Off Press in 1990. Issue 3 was published by Drawn and Quarterly and continues. (Since this interview Mary has put Slutburger on hiatus- and is currently drawing a comic called FLEENER it's published by the Simpsons creator Matt Groening's publishing company called Zongo a division of Bongo.) I heard the phrase "Slutburger" from my husbands' boss, he used it to describe his girlfriend, who I know and who now knows about my title- I assured her that none of the stories were about her. Believe it or not she leads a boring life.
I really enjoyed the Comic Hoodoo, what interested you in Zora Neal Hurston? Have you ever thought about doing a comic about Marie Laveau?
I have always been interested in the so-called impossible, whether it was witches, magic, shamanism, voodoo -you name it. I thing the potential for power is real but human beings always abuse power so it takes a pretty stable person to use it. There haven't been many! It is feared by the church and rightly so. Zora Neale Hurston is like me willing to be fascinated but not inclined to become a devotee. Her angle was anthropolic and so is mine. Plus I am a big blues fan and many songs talk about "Hoodoo", so that's also how I got interested. No, I haven't read enough about Marie Laveau to do a comic about her.

What was the first comic that you ever drew and did it get published?
The very first comic I ever drew was in 1985 and I sent it to Robert Crumb who was very encouraging. My first published cartoon was in Robert Armstrongs' "The Tuber Voice" Couch Potato Newsletter. I got paid $10.00 it was exciting!

San Diego has no real cultural center, especially in the North County -even though it is full of artists... do you sometimes find it difficult to get motivated? What do you do to motivate yourself?
Actually I'm glad there's no "cultural center" I enjoy the ocean and surf and the less people, the better! I'd rather not be exposed too much- I see enough in books, magazines, TV, and on the streets is where I gather inspiration. I motivate myself by sheer will and realizing this is my job and I'm lucky to be able to be a working artist so I don't want to tempt fate by blowing the is chance to work at home and be my own boss.

Do you show your painting locally or do you go abroad to do that? Do you feel there's a lack of art appreciation in San Diego?
San Diego has a great gallery called Rita Dean on 5th Street and Market. I've shown there and also in group shows at La Luz de Jesus gallery in L.A. -I did a 2 person show in May 1994 and will have a solo show there in May of 96. The Insect Surfers are going to play at my opening. Most of my paintings will be illustrated songs -instrumentals like "Tequila", "Peter Gunn", "Wipe Out", etc... no copyright problem with that! I've been in a few shows in Europe too.

Artist that you are fond of include...?
Fave comix artists to ten (in no order)
1. Phoebe Gloeckner
2. Carel Moiseiwitsch
3.Charles Burns
4. Jack Kamen
5.Chester Gould
6. Al Capp
7. Robert Crumb
8. Robert Armstrong
9.Krystine Kryttre
10. Wayno

I've seen the back piece Jonathan Shaw did on Luke Miller from one of your paintings. Will you ever get a tattoo yourself and what would it be?
If I got a tattoo I would have to do my entire back -nothing less. I pierced my nose in 1970 and got bored with the look in two years so I understand permanence. I'd probably go "classic" and get a Japanese motif with chrysanthemums and Koi fish -that sort of thing. Maybe part of my butt too. However, I do not like the pain. Oh well, I can't afford that, besides that I'm a surfer and the sun would ruin it.

Have you seen any good movies lately, or can you recommend any good things to read?
I'm a little behind the times but yes -here's thumbs up on : "The King of Comedy", "El Mariachi", "Janis", and a good book is "Youth In Revolt" by C.D. Payne-Doubleday. (it is the best book I've read in a long time-ed.)

Do you still play bass?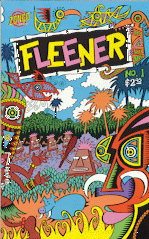 Yep, I still play my blond Rickenbacher -I'm what you'd call a "rock steady" bass player -nuthing' flashy - I play with the drummer.
Since you live on the coast, do you surf or do any California sporty type things?
I'm a body boarder- last year I got a 9" surfboard but it isn't easy to learn I go out almost every day and my hardcore surfer husband knows how lucky he is!!
Mary Fleeners words to live by are...
Whatever you do, do it for you.
Thanks Mary- To get a hold of Mary's comics you can visit your local comic book store, if they don't have it they can order it!

BE SURE TO VISIT MARYFLEENER.com

artwork is the property of Mary Fleener-

*