He was able to take pathetic to a whole new level. I have put together a GIG GALLERY with about 40 different images,just an example to show you exactly how obsessed I am. This is not a complete listing of all of his work, just a sample of it.
MARGARET KEANE
.
The Woman Behind the Eyes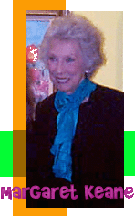 Well, when in San Francisco about 4 years ago I had a chance to stop by the Keane Eyes Gallery, and sadly it was closed for the day. SOB SOB! I was more pathetic than one of her paintings looking through that window. Since then I've learned a lot more about Margaret's art and recently had a chance to meet this amazing artist and her daughter. They were both as sweet and talented as can be. I was also a bit suprised by how candid Margaret was and also a little shocked to see just how much she looks like her doe eyed paintings...click here for more about my meeting with Margaret Also, a keane fan, Carrie, was VERY kind and sent me this article that I have heard so much about. It is over 20 years old and still makes for an Interesting Read, as well as major insight to Margaret's transformation into painting smiling children, rather the the sad eyed urchins that she did 30+ years ago.
WALTER KEANE

Princess Megan Of The Besmirched World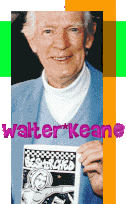 I am now aware that Walter didn't actually paint any of the well known paintings- although he was a great business man and one of the reasons that this art form is recognized Here's an article about the time I met Walter Keane. He was very nice to me, and had some wonderful stories that he shared. My opinions have definitely changed about a lot of stuff, but here's how I felt at the time. I feel very lucky to have met him, and believe that his skills as a business person- is why 'big eyed' art became so popular. Dealing with celebrities and living the 'lifestyle' made the art all the rage with the stars. Without his promotion- we perhaps never would of seen Margaret's work in the limelight in 60's. As well as the rest of the movement that her style sparked. My meeting with Walter
REFERENCE and IDENTIFICATION GUIDE


A Partial List of Artists and Their Art

People often mistake KEANE for some of the other popular big eyed artists of the 60's. Does Maio paint big eyed animals? Does Gig do portraits of young harlequins? If you don't know, you can make some sense of it here at the GUIDE TO BIG EYED ART.
TRIBUTE WEBSITES


On-line Galleries and Info

Here's a quite comprehensive list and reviews of my friends sites who share a passion for those pathetic eyes. Don't miss this if you are looking for wonderful images and interesting articles and remembrences of this 'lost' art.
BIG-EYE ART LOVERS UNITE!
CONTEMPORARY BIG EYES


Big Eyed Artwork Today

It is true that for the most part the BIG EYED MASTERS stopped production of these paintings by the mid to late 1970's. But big eyed art- lives today! There are many artists that now incooperate, are influenced, or are simply big fans of the genre. Follow this link and feast your eyes on some of the most beautiful images being produced today.
BIG EYES NEVER DIE.
LITTLE MISS NO NAME

and other sad big eyed dolls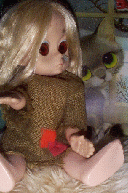 Little Miss No Name was a doll made by Hasbro in 1965. Not a big seller at the time. Can you imagine a young girl asking for a doll that looks like she has already been played with? So pathetic with a little plastic tear, potato sack dress, and hand that reaches out for love, affection, and some spare change. What a sad little girl.
CONTRARY TO POPULAR BELIEF, Little miss no name didn't involve Margaret Keane in the design process at all. I had always heard that they had something to do first hand with her creation, but a reliable source has told me that the look was just based on their painting- it wasn't something Keane was a part of.
I have some interesting letters written to me by people who have a doll for sale. Basically after they purchased them for their own collection, they end of having to get rid of them because their children freak out because the child thinks the doll is possessed or something. I have had several people so far e-mail me in search of these dolls. The story is pretty much the same "I got the doll for Christmas and my younger sibling was so horrified that my mother had to throw her away".
Other great big eyed dolls include, Susie Sad Eyes, Susie Slicker, Soul Sister, Lonely Lisa, Blythe and Love Me Linda. I'm working on an i.d. guide for these cuties- so check back
PROJECT BIG EYES!

for the serious enthusiast
I'm currently co-writing a book, Big Eyed Masters . We are still looking for more information on the artists lives or examples of original artwork. So we're hoping to hear from more collectors. If you would like to be involved and receive a credit in the book plus your name next to any image of original artwork you donate--- if you haven't already.... please write. The book is being published by Last Gasp and should be out late 2004. It will include the biographies of many of our favorite "big eyed masters", as well as full color graphics, including many never before seen original paintings. More info soon.......
I'd love to hear about your collections, obsessions, or rememberences as well as what you have for trade or for sale, or you can go straight to ebay where theres always something big eyed listed at jacked up prices.

Here's a few items I'm looking for:
Ceramic & Plastic Big Eyed Cat & Dog figurines/planters (enesco&others), Susie Sad Eye Dolls, Little Miss No Name Doll (Actually just the box that she originally came in), original paintings by Keane and Gig , as well as original art by Miree, Lee, Eve, Eden, Franca, Ward, Goji, Ishii, Gunilla, Miki, Sherle, Igor, Maio. Unusual big eyed Banks, Clocks, Salt and Pepper Shakers, etc...
But above all I am looking for more information about the lives of Big Eyed artists. If you have any information- please get in touch, don't let the memory of these artists die!!!!
EMAIL
If the link doesn't work, Please try to e-mail me at besmirched@yahoo.com
BESMIRCHED.COM

at least
people have art that doesn't match their couch.
And by the way, that's why we like you


Last update * Rocktober* 2012
This page was created in March of 1997
p a g e d e s i g n (c) M e g a n B e s m i r c h e d 1 9 9 7-2 013
all artwork is (c) by the individual artist(s)
All photos and info is for private use only, do not redistribute or reproduce for public use