CATALOG & POSTER INFORMATION
Catalog is SOLD OUT



THE TRUTH SHOW CATALOG

This high quality limited edition full
color book is printed on glossy heavy
stock paper.
Cover Artwork by Tim Biskup.
40 pages of artwork that was
recently created for the truth show.
Features the art of:
Shepard Fairey, Mitch O'Connell,
Bwana Spoons, Martin Ontiveros,
Tim Biskup, Steven Cerio, Seonna Hong,
Matto Le D., Mary Fleener,
Lisa Petrucci, Bosko, Dave Burke,
Dennis Worden, Neil Blender,
Doug Thompson, Carson-- and more.
Our Supply is Very Limited since
this catalog was self published to
coincide with the show of the same name.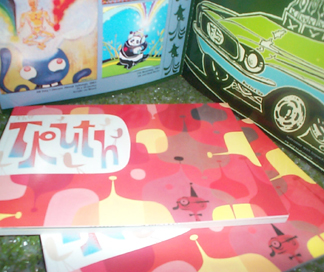 Seonna Hong Poster
30.00 ppd

THE TRUTH SHOW POSTER by Seonna Hong

Produced in very low numbers this show poster is going fast.
Full color glossy poster ready to frame.
You wont find this image anywhere else. Created exclusively by Seonna Hong (girl and cat on bike, see above) just for this event.

Poster measures just under 6x17 inches

Matto Le D Poster
sold out

THE TRUTH SHOW POSTER by Matto Le D

Also produced in very low numbers- only a few left.
Full color glossy poster ready to frame.
You wont find this image anywhere else. Created exclusively by Matto Le D (jetsetters lounge scene, see right) just for this event.

Poster measures just under 17x6 inches